Here's the scoop
This summer's collection is inspired by the snacks, treats, and drinks that keep you fueled on a summer road trip. The sweet and salty foods grabbed at the gas station. The cool treats we reach for to take the edge off the sweltering heat. The first satisfying sip of that super refreshing (adult!) beverage when you're done driving for the day — 'cause you earned it. We're celebrating these nostalgic snacks in all their glory this summer.
Available in shops and online 7/13
High Five Candy Bar
Four ingredients to rule them all: Peanut butter, caramel, chocolate, and pretzels. Plus one not-so-secret ingredient — honey — gives our peanut butter ice cream a dreamy, nougat-y texture and flavor. Think of eating this flavor like digging for buried treasure. There's something fun to be found in every single bite!
Available only in shops 7/20
Salted Licorice
Whether you're a licorice lover or not this flavor has the power to literally change minds. Soft and mild anise-scented sweet cream with a salty little edge. Bitter and sweet dark chocolate flecks scattered throughout with masterful restraint. It tastes just like that irresistible Scandinavian licorice—a salty style of licorice and my favorite childhood flavor. Worthy of a double take.
Available in shops and online 7/27
Frosé Sorbet
This sorbet tastes like some of the best frosé we've ever had. Simple, bright, refreshing—it's exactly what you want on a hot day. We start with rosé from Peregrine Ranch in Sonoma Valley. A fruity rosé filled with notes of bright strawberry, subtle blackberry jam, and hints of lemon zest. It's got crisp acidity and a dry, refreshing finish. We amp up all these flavor notes with added pear and strawberry, plus watermelon essence and lemon juice. It's great topped with your favorite sparkling wine, a shot of tequila, or even more rosé.
Available in shops and online 8/3
Bombastix Sundae Cone
A double vanilla cream (a blend of Tahitian and Fair Trade Madagascar vanillas) that hits that top-note, perfect-pitch vanilla chord just right. Folded into the cream are lots of crunchy chocolate-coated waffle cone pieces and plenty of gooey fudge. Bombastix Sundae Cone will strike your nostalgia bone in all the good ways.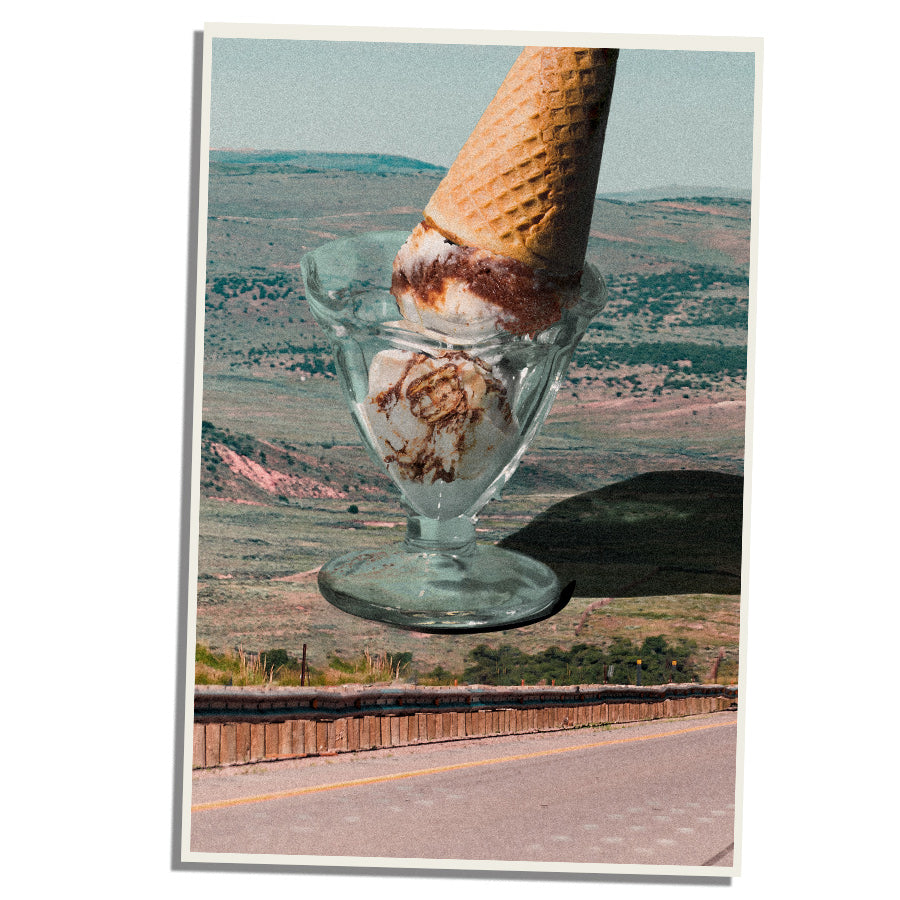 Available in shops and online 8/10
Butterscotch Popcorn
Yes, the popcorn we use to make this flavor is actually popped using the power of sunshine! The folks at BjornQorn in New York's Hudson Valley use solar power to heat kettles filled with kernels. We steep this magical, crisp, sun-popped corn directly into fresh dairy, infusing every inch with the flavor and aroma of addicting, buttery popcorn. Adding crispy, golden toffee gives it that sweet, caramelized kettle corn flavor. Tastes like 7 p.m. summer sunlight and it's the greatest.
Listen up
We've got the ultimate summer road trip playlist, curated by our guest DJ Brandi Cyrus. Songs that'll keep you fueled on the open road.